Hammer, Claw, and Mallet Toe
What are hammer, claw, and mallet toes?
Hammer, claw, and mallet toes are toes that are bent into an odd position. They may look strange or may hurt, or both. These toe problems almost always happen in the four smaller toes, not the big toe.
A hammer toe bends down toward the floor at the middle toe joint. This causes the middle toe joint to rise up. It usually affects the second toe. Hammer toes often occur with bunions.
Claw toe often affects the four smaller toes at the same time. The toes bend up at the joint where the toes and the foot meet. They bend down at the middle joints and at the joints nearest the tip of the toes. This causes the toes to curl down toward the floor.
A mallet toe bends down at the joint closest to the tip of the toe. It often affects the second toe, but it may happen in the other toes too.
If you notice that your toe looks odd or hurts, talk to your doctor. You may be able to fix your toe with home treatment. If you don't treat the problem right away, you are more likely to need surgery.
Symptoms
What are the symptoms of hammer, claw, and mallet toes?
Hammer, claw, and mallet toes may hurt and make it hard to find shoes that fit. They may rub against your footwear and cause calluses or corns. In more severe cases, these toe problems may affect your balance and make it hard to walk.
Diagnosis
How are hammer, claw, and mallet toes diagnosed?
Your doctor will ask questions about your symptoms and past health and do a physical exam. Your doctor will want to know:
When the problems started, what activities or shoes make them worse, and if other parts of the foot are painful.
What kind of shoes you wear and how much time you spend standing or walking every day.
Any previous foot problems you have had.
Any medical conditions you have that could be related, such as arthritis, diabetes, or poor blood flow (circulation).
During the physical exam, your doctor will look at your foot to see if the toe joint is fixed or flexible. A joint that has some movement can sometimes be straightened without surgery. A fixed joint often requires surgery.
If the doctor thinks you may need surgery to correct your problem, you may have tests, such as an X-ray, blood flow testing, or nerve testing.
Treatment
Wrapping a Hammer Toe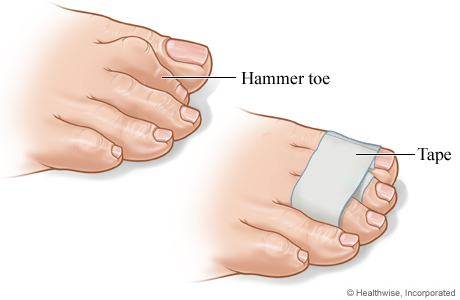 Start with the tape under the toes, with the sticky side up.
Gently wrap the tape under the big toe (or the toe next to the hammer toe), then over the hammer toe, and then under the next toe and over to the toe you started with. This forces the hammer toe into a normal position. This does not straighten the toe permanently.
How can you care for yourself when you have hammer, claw, or mallet toes?
You can probably treat your toe joint problem at home. If you start right away, you may be able to avoid surgery.
Change your footwear. Choose shoes with roomy toe boxes, low heels, and good arch supports. Sandals or athletic shoes that don't rub on your toe may be a good option. You could also try custom-made shoes or shoes made for people who have foot problems.
Use products that cushion the toe or hold the foot in a more comfortable position, such as moleskin, toe tubes, arch supports, or other shoe inserts (orthotics). These are better for treating a flexible toe, but they can also provide some relief for a fixed toe.
Care for any calluses or corns on your feet. Moleskin and other over-the-counter treatments may help relieve pain. Never cut corns or calluses, because this can lead to infection.
Take an over-the-counter pain medicine, such as acetaminophen, ibuprofen, or naproxen. Check with your doctor before taking these medicines. Be safe with medicines. Read and follow all instructions on the label.
If your toe joint is flexible, you can also try:
Taping a hammer toe. Wrap tape under the big toe (or the toe next to the hammer toe), then over the hammer toe, and then under the next toe. This gently forces the hammer toe into a normal position. But it doesn't straighten the toe permanently.
Toe caps, slings, or splints. These hold toes in a normal position, much like taping does.
Exercises that help keep the toe joints flexible and strong, such as the ones listed below. Your doctor or physical therapist may be able to suggest more exercises.

Gently pull on your toes to stretch the bent joints. For example, if a joint bends up, gently stretch it down. Hold for several seconds. You should feel a long, slow, gentle pull. Work on one joint at a time. Do this several times, morning and evening.
Do towel scrunches. Put a towel flat under your feet and use your toes to crumple it.
Do marble pickups. Use your toes to pick up marbles and drop them in a cup.
---
Copyrighted material adapted with permission from Healthwise, Incorporated. This information does not replace the advice of a doctor.