What is plantar fasciitis?
Plantar fasciitis (say "PLAN-ter fash-ee-EYE-tus") is pain in your heel or the bottom of your foot. It happens when the flat band of tissue (ligament) that supports the arch of your foot is inflamed or irritated.
Plantar fasciitis is common in middle-aged people. It also occurs in younger people who are on their feet a lot, like athletes or soldiers. It can happen in one foot or both feet.
Symptoms
What are the symptoms of plantar fasciitis?
The main symptom of plantar fasciitis is heel pain when you take your first steps after you get out of bed or after you sit for a long time. You may also have:
Stiffness and pain in the morning or after you rest. It gets better after a few steps but gets worse as the day goes on.
Pain that gets worse when you climb stairs or stand on your toes.
Pain after you stand for long periods.
Pain at the start of exercise. It gets better or goes away as exercise continues, but it comes back when exercise is done.
Plantar fasciitis may be mistaken for other conditions with similar symptoms, such as arthritis or a nerve problem such as tarsal tunnel syndrome.
Plantar Fascia: Bottom View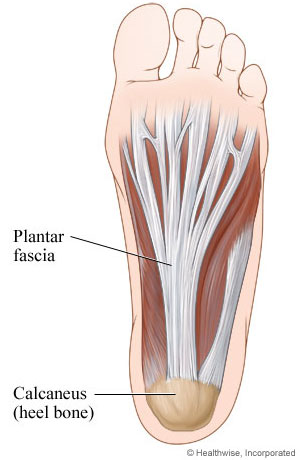 The plantar fascia is a ligament attached to the heel bone (calcaneus) that divides and fans out to attach at the base of the toes.
Diagnosis
How is plantar fasciitis diagnosed?
To diagnose plantar fasciitis, your doctor will ask questions about:
Your past health. This includes what illnesses or injuries you've had.
Your symptoms. Examples are where the pain is and at what time of day your foot hurts most.
How active you are.
What types of physical activity you do.
If you are an athlete, your doctor may look for other problems. These may include issues with how your feet strike the ground, how your feet are shaped, or your training routine.
X-rays aren't helpful in diagnosing plantar fasciitis because they don't show ligaments clearly. But you might get X-rays if your doctor suspects a stress fracture, a bone cyst, or some other foot or ankle bone problem. X-rays may show if you have a heel spur. But having a bone spur may not mean that a person has plantar fasciitis.
Treatment
How is plantar fasciitis treated?
No single treatment works best for everyone with plantar fasciitis. But there are many things you can try to help your foot get better.
The goals of treatment for plantar fasciitis are to:
Relieve inflammation and pain in the heel.
Allow small tears in the plantar fascia ligament to heal.
Improve strength and flexibility and correct foot problems such as excessive pronation so that you don't stress the plantar fascia ligament.
Allow you to go back to your normal activities.
Most people recover completely within a year. Out of 100 people with plantar fasciitis, about 95 are able to relieve their heel pain with nonsurgical treatments. Only about 5 out of 100 need surgery.
Treatment that you start when you first notice symptoms works better and faster than treatment that is delayed.
First treatment
There are many methods you can try to relieve the heel pain of plantar fasciitis. Even though their effectiveness has not been proved in scientific studies, these methods, used alone or in combination, work for most people.
Rest your feet. Limit or, if you can, stop daily activities that are causing your heel pain. Try to avoid running or walking on hard surfaces, such as concrete.
To reduce inflammation and relieve pain, put ice on your heel. You can also try a nonsteroidal anti-inflammatory drug (NSAID) such as ibuprofen (Advil or Motrin, for example) or naproxen (Aleve, for example). NSAIDs come in pills and in a cream that you rub over the sore area.
Wear shoes with good shock absorption and the right arch support for your foot. Athletic shoes or shoes with a well-cushioned sole are usually good choices.
Try heel cups or shoe inserts (orthotics) to help cushion your heel. You can buy these at many athletic shoe stores and drugstores. Use them in both shoes, even if only one foot hurts.
Put on your shoes as soon as you get out of bed. Going barefoot or wearing slippers may make your pain worse.
Do simple exercises such as toe stretches, calf stretches, and towel stretches several times a day, especially when you first get up in the morning. These can help your ligament become more flexible and strengthen the muscles that support your arch. (For towel stretches, you pull on both ends of a rolled towel that you place under the ball of your foot.)
Avoid using only heat on your foot, such as from a heating pad or a heat pack, for at least the first 2 or 3 days. Heat tends to make symptoms worse for some people. If you use contrast baths, which switch between hot and cold water, make sure you end with a soak in cold water. If you try a heating pad, use a low setting.
If your weight is putting extra stress on your feet, your doctor may encourage you to try a weight-loss program. If you are trying to lose weight and you get plantar fasciitis when you start exercising, especially jogging, talk with your doctor about other types of activity that will support your weight-loss efforts without making your heel pain worse. An activity like swimming that doesn't put stress on your feet may be a good choice.
Ongoing treatment
If nonsurgical methods such as rest, ice, and stretching exercises help relieve your symptoms, keep using them. If you haven't improved after 6 weeks, your doctor may recommend that you keep doing those things but add other nonsurgical treatments. These treatments may include:
Custom-made shoe inserts (orthotics). These inserts require a prescription. If your foot has an unusual shape or if you have a certain problem that the device will help, then a custom-made insert may fit better and control pain better than a nonprescription one.
Night splints. A night splint holds the foot with the toes pointed up and with the foot and ankle at a 90-degree angle. This position applies a constant, gentle stretch to the plantar fascia.
A walking cast on the lower leg. Casting costs more and is less convenient than other nonsurgical treatments. And after the cast is removed, you will need some rehabilitation to restore strength and range of motion. But a cast forces you to rest your foot.
Physical therapy can help make sure you properly stretch your Achilles tendon and plantar fascia ligament. Doctors usually consider surgery only for severe cases that don't improve.
Treatment if the condition gets worse
Your doctor may suggest corticosteroid shots if you have tried nonsurgical treatment for several weeks without success. Shots can relieve pain, but the relief is often short-term. Also, the shots themselves can be painful. And repeated shots can damage the heel pad and the plantar fascia.
Out of 100 people with plantar fasciitis, about 95 are able to relieve their heel pain with nonsurgical treatments. Only about 5 out of 100 need surgery. If you are one of the few people whose symptoms don't improve in 6 to 12 months with other treatments, your doctor may recommend plantar fascia release surgery. This involves cutting part of the plantar fascia ligament to release the tension and relieve the inflammation of the ligament.
Questions to ask your doctor
If your plantar fasciitis is related to sports or your job, you may have trouble stopping or reducing your activity to allow your feet to heal. But resting your feet is very important to avoid long-lasting heel pain. Ask your doctor or a sports medicine specialist to suggest a plan for switching your regular activities with ones that don't make your pain worse.
If you exercise often, ask your doctor if physical therapy or referral to a sports medicine specialist, a podiatrist, or an orthopedist is right for you.
Some questions you may want to ask about exercise include:
Should I cut back on my exercise? How many days a week, how long, and what exercise should I do instead?
Should I ice my foot after I exercise? If so, for how long each time? How long should I keep icing?
Should I use nonsteroidal anti-inflammatory drugs (NSAIDs) either before or after I exercise?
Are there exercises I can do to make my foot and ankle more flexible? What are they? How often and how long should I do them?
---
Copyrighted material adapted with permission from Healthwise, Incorporated. This information does not replace the advice of a doctor.