Bursitis is a painful swelling of a small sac of fluid called a bursa. Bursae (plural of bursa) cushion and lubricate areas where tendons, ligaments, skin, muscles, or bones rub against each other. People who repeat the same movement over and over or who put continued pressure on a joint in their jobs, sports, or daily activities have a greater chance of getting bursitis.
Symptoms
What are the symptoms of bursitis?
Bursitis usually causes a dull pain, tenderness, and stiffness near the affected bursa. The bursa may swell and make the skin around it red and warm to the touch. Bursitis is most common in the shoulder, elbow, hip, and knee. It may also occur near the Achilles tendon or in the foot.
Bursitis of the Shoulder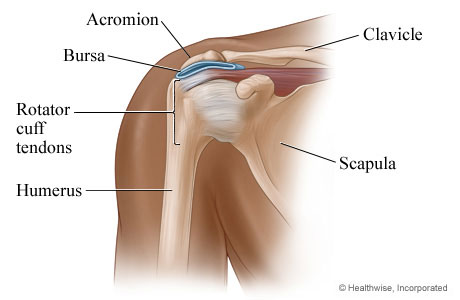 Bursitis of the shoulder is inflammation of the bursa found between the bone at the top of the shoulder (the acromion), the upper arm bone (humerus), and the tendons and muscles.
A bursa is a fluid-filled sac that cushions and lubricates areas of the body where friction is likely to occur. Examples of such areas include between two bones, between a tendon or ligament and a bone, or between bone and skin.
Diagnosis
How is bursitis diagnosed?
Your doctor will ask about your past health and recent activities and examine the area. If your symptoms are severe or get worse even after treatment, you may need other tests. Your doctor may drain fluid from the bursa and test it for infection. Or you may need X-rays, an MRI, or an ultrasound.
Treatment
How is bursitis treated?
Home treatment is often enough to reduce pain and let the bursa heal. This may include rest and icing the area.
Along with home care, your doctor may suggest physical therapy to strengthen the muscles around your joints.
If you have severe bursitis, your doctor may use a needle to remove extra fluid from the bursa. You might wear a pressure bandage on the area. Your doctor may also give you a shot of medicine to reduce swelling. Some people need surgery to drain or remove the bursa.
Sometimes the fluid in the bursa can get infected. If this happens, you may need antibiotics.
---
Copyrighted material adapted with permission from Healthwise, Incorporated. This information does not replace the advice of a doctor.